Jactone Products, who specialise in the design, manufacture and supply of a diverse range of fire safety and signage products to both the United Kingdom and export markets, are delighted to announce the launch of its new and improved jactone.com website
Together with a bold new look, the new site brings together Jactone's manufacturing knowledge and expertise to deliver a new informative, dynamic and user-friendly online platform.
The site benefits greatly from enhanced navigation and functionality throughout, to provide users quick and easy access to information on the wide range of fire safety and signage products that Jactone manufacture and supply.


The new responsive web design enables visitors to learn more about the Jactone products and services that can be offered through a wide range of web browsers and devices including mobiles and tablets. The cleaner page layout and intuitive navigation is especially mobile and tablet friendly.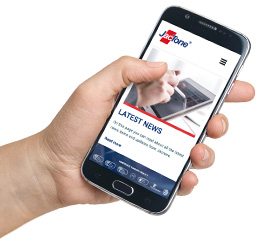 Keep up to date with what is happening at Jactone in our redesigned News section. We'll ensure you have all the latest stories such as upcoming exhibitions, new products or interesting topics such as changes in industry standards so, check back often. You can always connect with us on our social network sites too.
www.jactone.com/about-us/news
We've revamped our
contact
page to make it easier to get in touch with us on desktop, tablet or mobile devices. There is a user friendly
contact
form designed to ensure that when all information is provided, the correct people within Jactone will deal with your enquiry quickly and efficiently.
www.jactone.com/contact
COMING SOON…
Look out for the addition of our new dedicated media download section where registered visitors to the site can access a range of documents including company brochures, technical data sheets and more. In fact, Jactone plans to continue to develop the website wherever we feel it will enhance user experience so any comments or suggestions will always be welcome. You can contact us at marketing@jactone.com
You're invited to take a look for yourself www.jactone.com