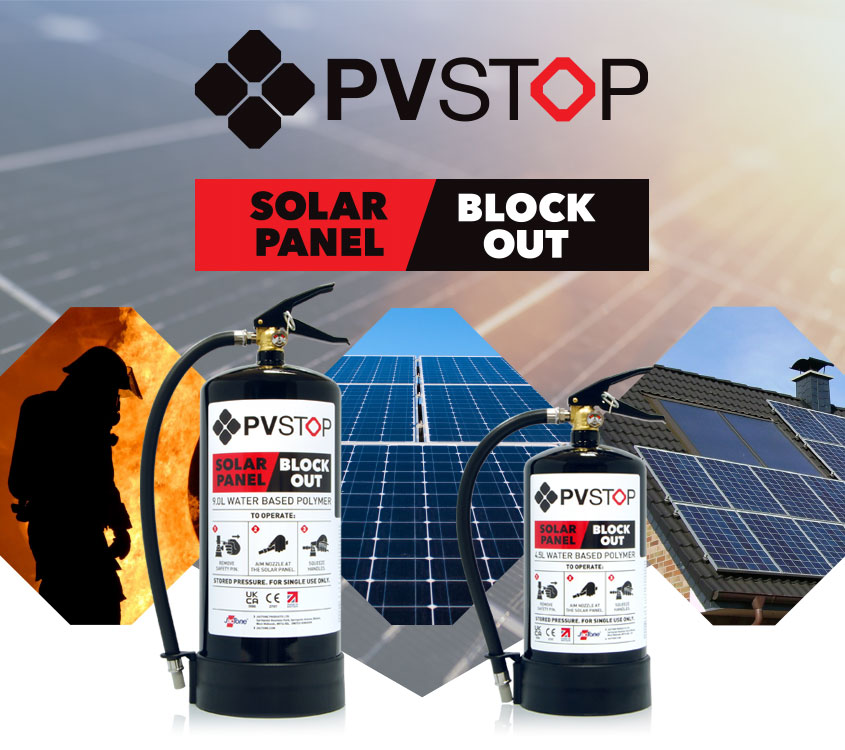 Make solar energy safe with PVSTOP

We are delighted to launch and introduce PVSTOP Solar Panel Block Out to our product range.
 PVSTOP Solar Panel Block Out is the only known solution for 'switching off' solar panels, making them safe in the event of a short circuit or emergency incidents such as a fire, flood or storm. PVSTOP acts as a liquid blanket sprayed onto the solar panel and blocking out the light – the energy source, and rendering the solar PV system electrically safe.
PVSTOP is a simple solution to a complicated and technical problem.
Who is PVSTOP for 
PV solar panels produce dangerous DC electricity whilst they remain exposed to light. Whilst other safety systems can operate effectively downstream, they do not address the risk that exists at the point of power generation, the panels themselves.
PVSTOP can be used effectively by suitably trained Fire & Rescue Services, Site First Responders, Electrical Technicians, Maintenance Personnel, and PV system Owners and Operators. PVSTOP protects those operating in and around solar panels from the hazards of lethal DC voltage when responding to a failure or emergency, mitigating the risk of electric shock from PV panels so they can safely respond to the situation.
Why choose PVSTOP
• Eliminates the risk of DC electrocution.
• Can 'switch off' a panel in seconds.
• Provides early intervention leading to damage limitation.
• Does no damage to the PV system.
• Sticks to panels in all weather conditions.
• Polymer film coating easily peels off once dry.
• Environmentally friendly.
• UK manufactured. 
PVSTOP is an essential solar PV safety solution
With the significant and increasing adoption of solar energy power generation, PVSTOP Solar Panel Block Out will be essential safety equipment for solar PV systems moving forward.
For more information visit > www.jactone.com/pvstop or call +44 (0)1902 357777
Helping you stay safe today and tomorrow