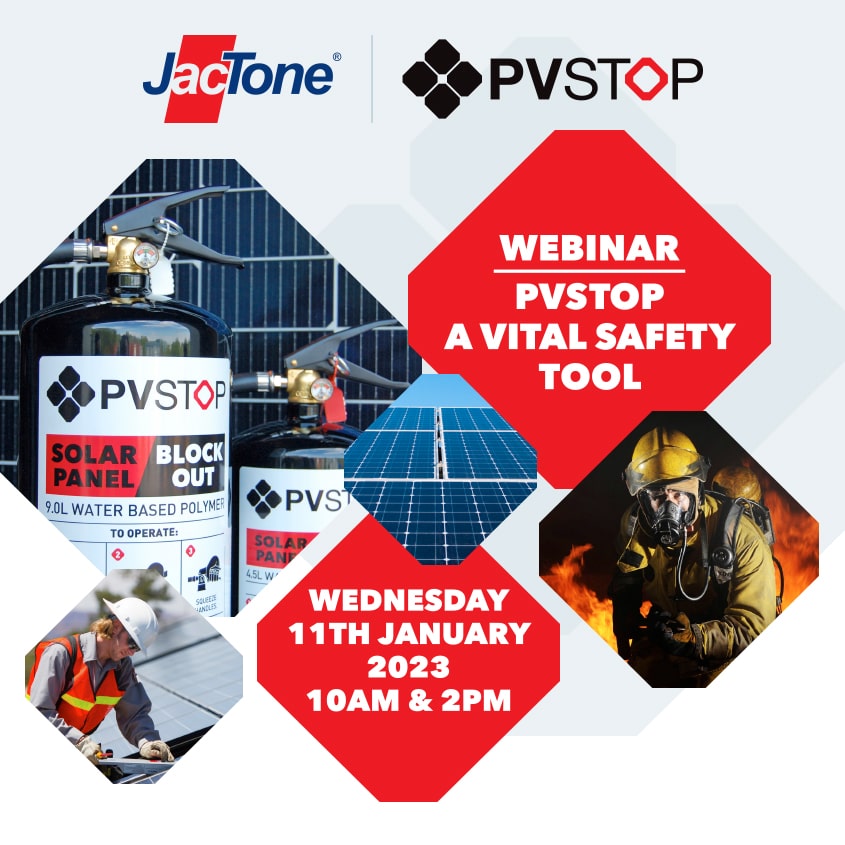 LIVE WEBINAR ON PVSTOP SOLAR PANEL BLOCK OUT

We're starting off the new year with a webinar on a product we introduced last year, PVSTOP Solar Panel Block Out.
Join us next Wednesday 11th January for this introductory webinar on PVSTOP and how it is a vital piece of safety equipment.
We'll be holding the webinar twice next Wednesday at 10am and 2pm UK time. The 10am webinar is for Fire and Rescue Services and the 2pm webinar is for the Solar Industry. If you are interested in joining us for either of these webinars please follow the registration links below.
PVSTOP Solar Panel Block Out is the only known solution for 'switching off' solar panels, making them electrically safe in the event of a short circuit or emergency incident.
• Click here to register for the PVSTOP Fire and Rescue Services webinar
• Click here to register for the PVSTOP Solar Industry webinar
Key areas covered will include:
• The risks from solar panels.
• The DC danger zone.
• What is PVSTOP.
• How PVSTOP makes solar panels safe in an emergency situation.
At the end of the webinar, there will be a Q&A for any questions you may have.
We hope to see you there!